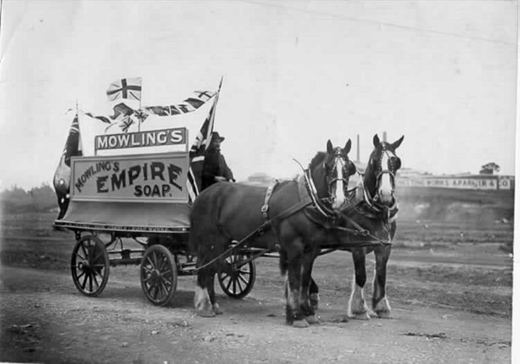 1909 Footscray Jubilee Celebrations - Mowlings Empire Soap.

ID: 4746
Photographer: Sean's Studios
Copyright: Library owns image (image on public access)
Org ID: 17/1


Description: Mowlings Empire Soap horse and cart float decorated for the Footscray jubilee procession, 1909.
Subject: festivals, celebrations etc.
Please Contact:

Maribyrnong Library Service

Pictures owned by Footscray Historical Society
'Ercildoune', 66 Napier Street
Footscray 3011
p. 9689 3820
w. http://home.vicnet.net.au/~foothist
http://www.maribyrnong.vic.gov.au/library
Printing tip: Before printing, please change your page orientation to Landscape in your printing options. This will ensure the best print results.