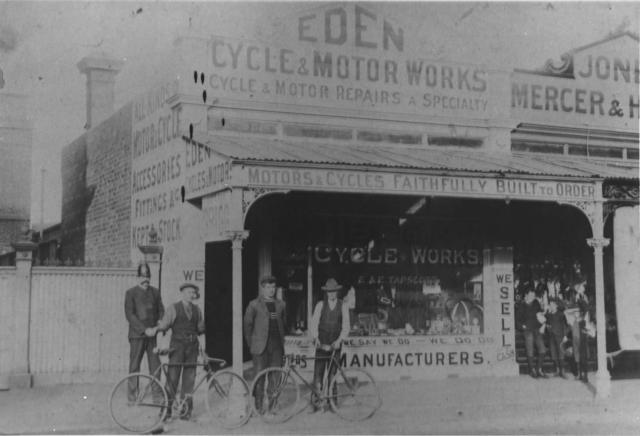 c.1903-1905 Eden Cycle and motor works.

ID: 18040
Photographer: Unknown
Copyright: library owns image (image on public access)
Org ID: FL30


Description: Image held by Fitzroy Library. Eden Cycle and Motor Works, Brunswick Street next to the Post Office. The name of the proprietors on the glass shopfront is shown as E & E Tapscott. In 1903 Ernest Eden Tapscott and his brother was Edward Cyril Tapscott applied for a Trade Mark for the Eden bicycle giving their trading name as E & E Tapscott, 294 Brunswick St, Fitzroy. In 1903, Edward was married (age 17) and he gave his occupation as bicycle mechanic and his address as 294 Brunswick Street. By 1910, Edward was living in Sydney, NSW, his daughter being born there that year. Ernest Eden Tapscott (aged 20) was married in 1904 and gave his occupation as cycle builder. They are listed in the Victorian directories in 1904 and 1905. By 1907, Ernest Tapscott was working in Tasmania, having taken up a plumbing contract.
Subject: retail trade
Please Contact:

Yarra Libraries

Yarra Libraries
Phone: 1300 695 427
Email: yarralibraries@yarracity.vic.gov.au
Website: Yarra Libraries
Printing tip: Before printing, please change your page orientation to Landscape in your printing options. This will ensure the best print results.